Devimco Immobilier Experience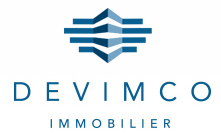 Devimco Immobilier was founded in 1997 and has now become a leading real-estate developer in Quebec. With the financial support of both institutional and private partners as well as pension funds societies, this privately owned company wants to keep differentiating itself with the conception and implementation of larger scale real-estate projects and « lifestyle » type living environments.
Always ahead of new trends, Devimco Immobilier specializes in the conception and implementation of « lifestyle » or « mixed use » type projects incorporating residences, services, shops, entertainment and businesses (work, live, play).
With that in mind, Devimco Immobilier has started developing in 2005 what is now the biggest private real-estate project in Montreal, District GriffinTM. Within depth knowledge and many years of experience on the urban Montreal real-estate market, Devimco Immobilier along with a group of talented consultants and professionals are working passionately to develop a real living environment where all aspects of community life will be represented.
In fact, Devimco Immobilier was the first to develop that « lifestyle » type of product with the Quartier DIX30TM, which is the second largest commercial center in Canada. Other large scale projects were also successfully developed by Devimco Immobilier namely Megacentre Notre-Dame in Laval, the Carrefour Champêtre in Bromont, the Megacentre Lebourgneuf and Megacentre Beauport, totalling over 5 million sq ft of real-estate development.